Yerington, NV Shredding Services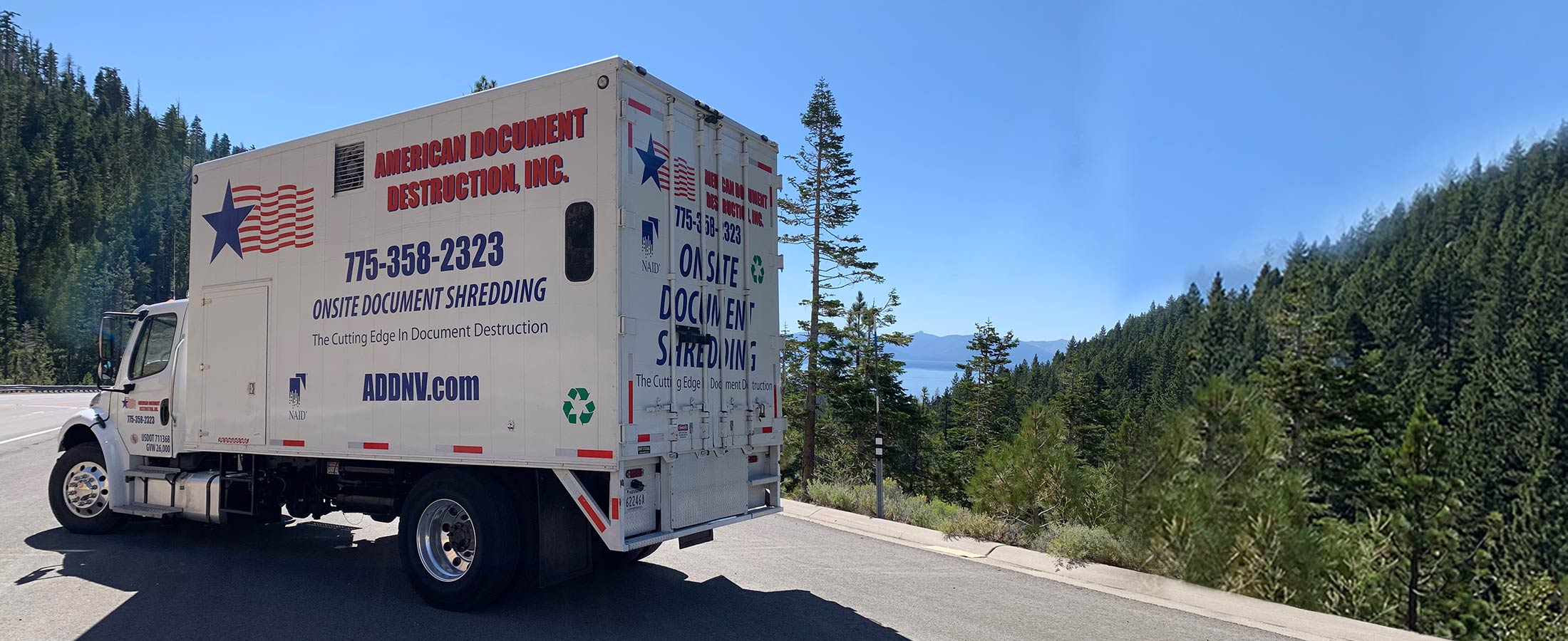 Your Local Yerington, NV Shredding Services Company
American Document Destruction offers secure shredding services to clients in Yerington, NV, including a wide variety of document destruction services for residential and business clients. Depending on your requirements, we can often schedule service right away. We operate Monday through Friday for your convenience. As a local small business with deep community roots, we are proud to provide cost effective mobile paper shredding services.
Don't Leave Privacy to Chance
It is risky to discard your personal or business documents. When you outsource the disposal and destruction to American Document Destruction to do it for you, you get a systematic, proven process to protect your sensitive information in a discerning and confidential way that exceeds the highest standards in the document shredding industry.
Whether you're a legal or accounting office destroying old client records or an individual homeowner discarding outdated tax returns and medical records, the shred experts at American Document Destruction are here to help you keep your private information safe and secure.
Business & Residential Shredding
American Document Destruction provides residential and commercial document destruction services to Yerington, NV using our fleet of mobile shredding trucks. These document destruction services are available Monday through Friday. To schedule your shredding job, give us a call or complete the form on this page. We'll respond with a quote and arrange your service at a time and date that's convenient for you. Call us today and you could have your shredding done by tomorrow.
Your Information Is Irrecoverable
One significant benefit of hiring American Document Destruction as an onsite shredding service company is that we shred documents beyond recovery. Our mobile shredder system features advanced cross-cut shred machinery that rips and tears paper into tiny pieces rather than strips. These pieces are thoroughly mixed with other shredded paper on the truck, making it logistically impossible to reassemble a document. After the truck is filled, all shredded material is recycled. This process provides legal compliance with your required privacy laws.
The End of Your Documents
American Document Destruction shredding services are designed to ensure your documents are completely destroyed. Our process is secure, 100% reliable, standards-compliant and tailored to meet your needs. For your convenience, we will shred any records or media you need destroyed either at your home or business or at one of our convenient drop off locations. We then issue a Certificate of Destruction for permanent confirmation of the service provided.
Are You Ready to Schedule Your Appointment?
American Document Destruction will take your call, answer your questions and help you choose the right document destruction service option for your unique situation. We will provide you with a quote that includes no hidden fees or extra charges. We will work with you to schedule a shredding time that fits into your schedule. Call us today or complete the form on this page to get started.