On- and Off-Site Shredding Services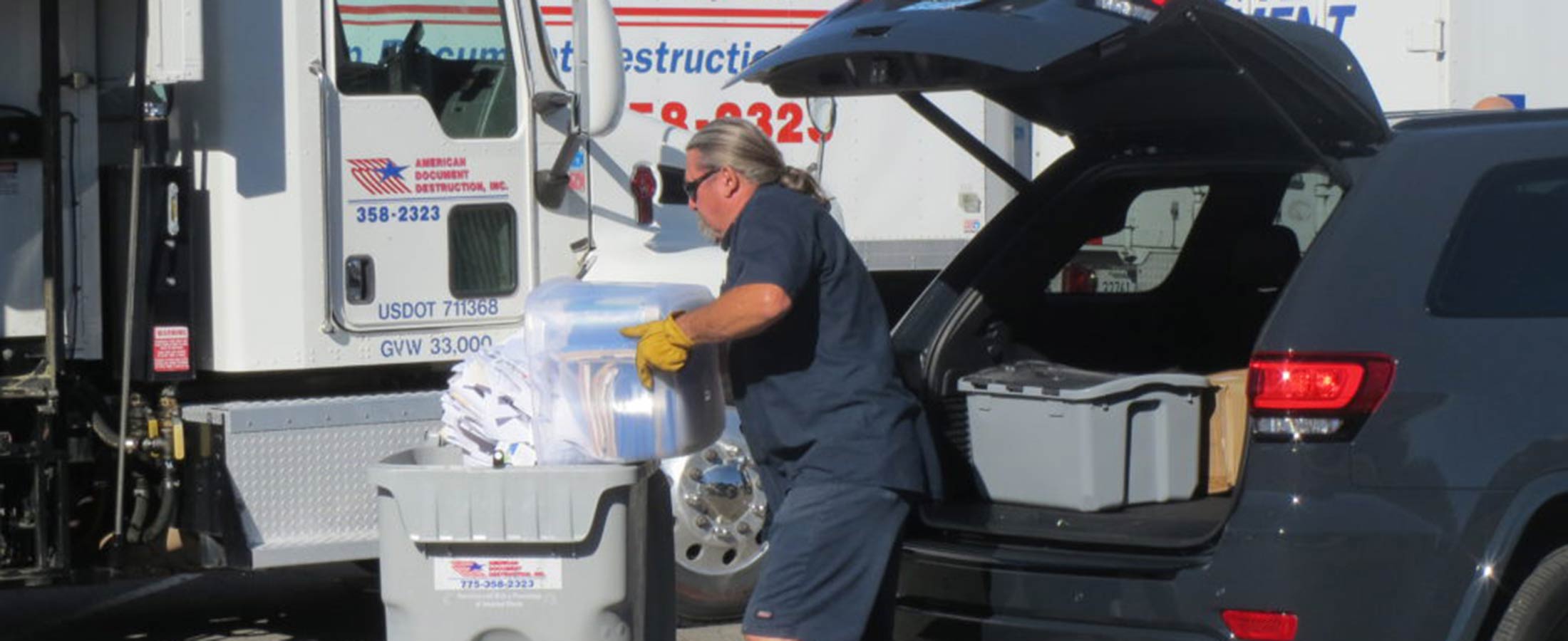 How to Choose Between On- and Off-Site Shredding Services
American Document Destruction (ADD) is proud to offer our clients both on- and off-site shredding services. We understand that many business owners struggle with understanding which solution best suits their destruction needs. We also realize that choosing the right service for your business is all about being well-informed. As a result, our secure document destruction company strives to educate our customers about all records and information management best practices—including secure solution document destruction—so they can make the most informed decision for their business.
Each of our destruction services has its benefits. See for yourself which one will work best for you and your business.
On-Site Shredding Services
On-site document destruction has gained popularity over the past several years due to a number of factors, including:
Convenience
Expedient disposal of business information
Ability to witness the paper shredding process
Similarly, the following statements by our customers illustrate commonly-held concerns about off site shredding:
"I don't want my documents to leave my premises for security reasons."
"I want on-site shredding services because I want to watch the shredding being done."
"I think it is safer to have the shredding done at my office because I don't know or trust where it goes if it leaves my premises."
Although document shredding on site is very convenient and allows customers to see their documents being shredded physically, we guarantee that our off-site paper shredding services are performed with this same quality. This is why each customer receives a Certificate of Destruction regardless of their decision to choose between on and off site shredding services.
Off-Site Shredding Services
On-site document shredding is not necessarily more secure than off-site paper shredding. Both are confidential and secure shredding solutions. Consider the following:
If you have chosen on-site shredding, do you or an employee of your company actually watch the shredding process?
If you do not watch, why is it more secure at your facility than at ADD?
If you do watch, do you really know what you are watching?
Now, consider this real-world example: The Enron scandal created a myth that all shredded paper can be pieced back together. Enron's attorneys were able to piece the paper together because the paper shredding was done with shredders that each emptied into an isolated and separate container. Since only Enron's documents were shredded, it was no more than a large puzzle to piece back together. This scenario is impossible with American Document Destruction's "closed-loop" off site shredding.
Trusted, Confidential Shredding Service
Our off-site paper shredding process mixes your documents with thousands of pounds of other customers' documents. With our confidential shredding service, we guarantee your documents are picked up and securely disposed of using the following processes:
Documents are placed within a locked container
Documents to be shredded are picked up by a trained, background-screened, ADD employee and placed on a locked truck
Documents are transported to ADD's secure shredding facility
All records are immediately shredded, mixed with shredded paper from other sources, and baled
Baled paper is secured until it is sent directly to a paper mill for recycling
Most vendors that offer only on-site shredding do not bale the shredded paper. Instead, they dump it at a recycling facility where there are no background checks or drug testing required for their employees. We bale all shredded material and send it directly to the paper mill for both our on- and off-site shredding solutions.
American Document Destruction is a confidential shredding service you can trust because we are NAID AAA Certified. We have been approved by the National Association for Information Destruction to securely serve you. Our document destruction company was able to pass various security protocols, from hiring practices and security procedures to adequate technology and equipment. Along with being NAID AAA Certified, we also comply with strict laws and regulations like HIPAA, FACTA, and GLB to uphold the standard of confidential shredding services.
Affordable Document Destruction
Our off-site shredding is more cost-effective than on-site shredding in Carson City, Lake Tahoe, and anywhere that isn't in our HQ location of Reno-Sparks. It's important to factor in all of the hidden costs associated with on-site shredding. Witnessing the on-site shredding process is not a cost-free endeavor. A cost analysis will quickly reveal the expenses associated with staff wages and benefits allocated for the visual verification process. As a result, off-site paper shredding is generally more economical than on-site document destruction.
Providing you with On- and Off-Site Shredding Choices to Fit Your Business Needs
Ultimately, choosing between our on- and off-site document destruction services comes down to which secure shredding solution offers the most benefit for your business. ADD is committed to providing the best value for your dollar. After all, a happy and informed customer is our best asset!