Confidential Shredding Services vs. Recycling
Paper shredding and paper recycling are not interchangeable terms and should not be confused as the same process to get rid of secure documents. It's not only the process of each that makes them different but the level of security between the two. A paper shredding service typically means the company has to comply with the National Association for Information Destruction (NAID), meaning more emphasis is put on the need to destroy private information as opposed to simply recycling documents which many people assume to be just as safe. Choose a confidential shredding company like American Document Destruction who provides HIPAA compliant document shredding services that also follow NAID guidelines.
Learn About HIPAA Compliant Shredding
Dangers of Recycling
If you are using recycling methods as a means to dispose of your private documents, keep in mind that the amount of protection that is put into keeping those documents and materials safe is very low. Recycling typically starts in-house at your home or business. Single stream recycling has become very popular which is why most areas only have one container for all recyclable materials to be placed into. Scrap paper and recycling facilities' main goal are to produce high quality recyclable materials. Once that recycling bin is placed on the curb, it is considered public property. It would be legal for anyone to dig through your bins and sort through your private documents according to the 1988 ruling from the U.S. Supreme Court. Your materials are dumped into trucks for transportation to recycling facilities. Recycling facilities then have to sort through each and every material prior to your documents being recycled since there are different grades. This often means that it could takes week after arrival until your private documents get destroyed. The sorting of materials is done by machine or by hand, and if done by hand, many people will have direct access and the opportunity to go through your documents. Recycling is one way to get rid of your documents, but unlike confidential shredding services, it doesn't guarantee that your private information will stay secure.
Benefits of Shredding Documents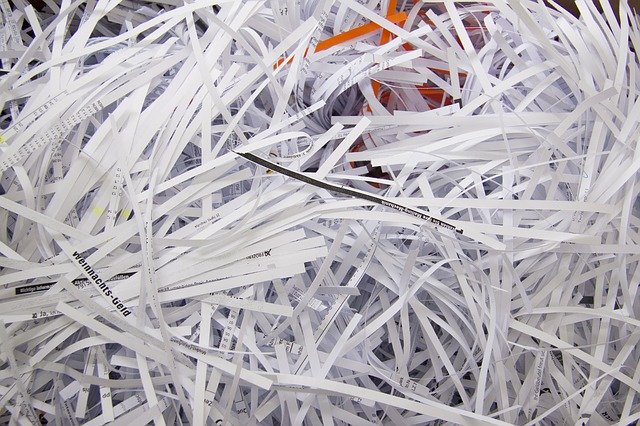 When it comes to paper shredding and secure document destruction companies, especially those that are affiliated with the NAID, there is a step by step process that these companies take to ensure your documents are properly shredded. There is very high security and many precautions that a secure document destruction company takes. Anyone who is considering working for shredding companies has to go through a background investigation during the hiring process. Those that get hired then move on to become a part of a highly trained, bonded and insured staff.
Many people assume that on-site shredding is more safe than off-site shredding, but on and off site shredding services are both equally safe. One of the benefits of confidential shredding through a secure document destruction company is that you have the option to drop your documents and data off directly or utilize locked containers to place your documents in in the meantime until they are picked up by a locked truck for transportation. Your records are then transported to the facility and shredded immediately. It is not until all your private information has been properly shredded and baled that it gets sent to be recycled. As opposed to paper mills and recycling facilities whose main focus is recycling, document shredding companies make security their main focus.
Premier Document Shredding in Reno, NV
Using a secure document destruction company guarantees that your private papers and materials are properly protected and disposed of. From document shredding and hard drive destruction to CSR Readiness and routine services, American Document Destruction has it all. Get the best document shredding Reno has to offer now!